Adoptable Dogs

---
George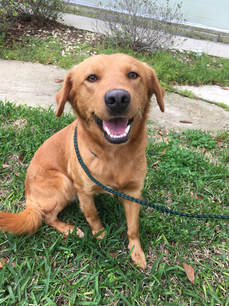 George is a handsome 1-2 year old boy who we believe to be a Golden/Lab mix. He somehow found himself in a scary situation in an Animal Control Center in AL. He was at the shelter for 2 months - how depressing that must have been! The shelter director knew who had owned George previously and hoped they would come for him, but they never did. He believes there was an illness in the family and they were no longer able to care for George. That may have been George's lucky day though as our rescue will make sure George becomes a beloved companion and finds the right home.
George is good with other dogs and LOVES to play with them. He is a young dog with age-appropriate energy. His plush coat is the most stunning shade of golden and his eyes are a beautiful amber color. Trust us when we say his photos do not do justice to how gorgeous this fellow is in person!
George is a shy boy who does not have a lot of socialization. When we first brought George into the rescue, he was very leery about having a slip lead put around his neck for walks. It was as though he had no idea that a walk was a good thing. He is becoming more comfortable with the slip lead and taking walks now. George can be timid, especially when there is more than one person in the room with him or in his kennel. While only one human is around, he is more confident. We are seeking a quiet, adult-only home for George; a home where his humans will be patient with him and help him gain confidence. It breaks our hearts to think of the sad kind of life this boy must have lived but that life is behind him now. If you think that you could provide this type of home for George and you are approved to adopt through SGRR, we would be happy to consider you for his adoption! Please contact Lisa at
lkh5@mchsi.com
if you are already approved to adopt. If you are not yet approved, visit our
adoption info page
to fill out an application.
George
has
been brought up-to-date on his vaccinations, is neutered, heartworm negative, and is microchipped.
Rescued dogs come with a range of needs - from behavioral to emotional to medical. When approved applicants adopt such dogs, they agree to take on whatever comes with the dog. It is up to YOU to continue the rehabilitation we have begun. This is what it means to rescue.
---
---
Cady & Cody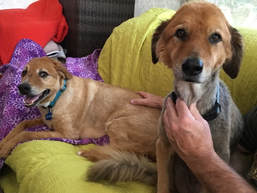 Update 3/14/18:
Cady and Cody are with our foster Cheryl, and they are doing so well! Definitely bonded, Cady looks for her brother Cody if he is not in sight, and she likes for him to be nearby even if he wants to help himself to her dinner! Both are very affectionate, and Cody gives kisses. They adore and crave attention and appreciate every bit of attention shown them. They have nice house manners with no accidents or counter surfing. They enjoy trotting around the fenced back yard and are very spry, with no problems on the five steps off the back deck. As their coats start to grow back from being shaved, and as Cady puts on much-needed weight, they are going to blossom into a pretty senior pair. It is a joy to watch them enjoy each other's company and to see their happiness with human attention. Whoever opens their heart and home to this sweet pair of seniors is going to be so glad they did!
Cady & Cody's Story:
Cody and Cady are a brother and sister Golden mix pair who we believe have always lived together. Now 11 years old, their former family turned them into a LA rescue.
We suspect there must have been an illness or loss in their family with no one to take them in.
Sunshine was contacted immediately to help them because they were overwhelmed and frightened by the sudden change in their lives.
Both Cady and Cody are house trained, heartworm negative, and had no parasites, all indications that they lived as inside dogs who were cared for by their previous owner. It is so nice to see them beginning to relax, with Cody rolling in the grass and the two of them trotting around the yard together. They love to spend time outside together. Both have the "Golden Nudge" down pat and will come up to you quietly and nudge your hand to be petted. Cody loves to have his chin scratched, and both welcome their kennel manager with wagging tails every morning.
The first week with us was not easy as they were both so confused and overwhelmed.
Cady is painfully thin at 35 lbs., and she was the more nervous of the two. When she had to be shaved down due to her matted fur, she tried to nip the groomer, and so Cody was muzzled for his grooming as well. But with more time to settle and since staying in the same kennel as her brother Cody, both have started to relax and we are watching their personalities begin to shine. Miss Cady has arthritis in her back knees and is already feeling better with the help of arthritis medicine. Otherwise, they are in generally good health with a moderate energy level.
Cody is 55 lbs. and could also gain a little weight. He is more gold without any black undercoat and also had to be shaved down due to severe matting.
We feel that Cody and Cady lived quiet lives and that a quiet home, possibly with a physically fenced yard where they can roll and play, would be perfect for them. If you have a big heart for seniors and for rescues, it will be so rewarding to welcome Cody and Cady to a loving retirement life. We do not have pictures of them with their coats grown out and looking nice, so it takes some imagination to mentally see them with full coats. However, look into their eyes and you can see their sweet souls, and that they just want to feel loved and at home again.
If you would like to be part of Cody and Cady's rescue story, please contact Lisa at
lkh5@mchsi.com
if you are already approved to adopt. If you are not yet approved, visit our
adoption info page
to fill out an application.
Rescued dogs come with a range of needs - from behavioral to emotional to medical. When approved applicants adopt such dogs, they agree to continue the rehabilitation we have begun.
---
---
Matilda

Matilda is a Black Lab mix who is thought to be about 3-4 years of age. Mattie had apparently spent her life with a family or owner of some sort, having been previously spayed and heartworm negative. One day the people who were supposed to love her forever allowed her to get loose and didn't come looking for her at the shelter where she waited. Yep, they just walked out of her life and didn't even bat an eye. Matilda was very emaciated and in pretty bad shape emotionally being abandoned by the people she had been loyal to for years. Being black in coloring, the least adopted color of dog, Mattie was consistently overlooked and just languished at the shelter until our rescue got word that "her time was up." Day after lonely day and unkind nights with nothing but metal bars and a cold concrete floor, it was the end of the line for this sweet, loving, and trusting girl. We just couldn't let her die there, alone and defeated. It was time to lighten her heavy heart and Mattie was taken into our rescue and got a brand new leash on life with J&L!
The shelter told us that this sweet girl is good with other dogs and simply loves people! She has a happy prance in her step now and wants nothing more than to be loved and cherish. Matilda is new to our rescue and her foster family is getting to know her. They shared. "She's a very sweet girl and wants to be by your side at all times. She sleeps with me on the bed half the night, then goes to get on the couch. She sleeps well thru the night, until we get up. She was ok with my one cat (that stands her ground). I knew our other scaredy cat would be terrified. Matilda just looked at her and walked on by. Then Mattie got more comfortable here and went up to the scardy cat and barked, which made cat run, so Mattie chased. Cat then stayed in the front yard for the most part the next couple of days. I got a water spray bottle and sprayed her once while saying "NO" on one occasion when she went after cat, but cat stayed away after that. I think with repetition, she'd learn to leave cats alone, but it'd have to be a cat that stands their ground."
"When she first arrived, she had a few accidents, but that was mostly on the first day. I bought treats to reward her and take her into yard a lot and she's gotten much better about pottying outside. I put baby gates up in kitchen first, but she easily climbs over them, so we will have to figure out a way to contain her while we are out. I think maybe if she had another dog for company, she would like that. She's so very docile while right next to us. She doesn't know the sit command…but, she loves treats, so she'll pick up on training easily. She's perfect in the house, as long as someone is with her… just lays by your side. She's so very docile while right next to us. We bought her some toys today; she played with them a bit, but Idon't think she's ever had any. She leaves shoes and everything else alone. She's good on a leash and rides nicely in the car. She's not big enough to counter surf much, but she'll help herself to what she can reach, if given the opportunity. LOL But the poor girl practically starved for awhile so Matilda eats very well. She is on the smaller side and is very enjoyable to have around. She has a waggily tail that is totally endearing! She adapted easily to her new surrounds and has made herself right at home!"
Mattie is up-to-date on vaccinations, heartworm negative, spayed, and micro-chipped. She is healthy, happy, and ready to find the love of her life. She's waiting for the one who will love her again, but this time it will be forever. This girl is not going to last! Mattie is ready to be your new favorite cuddle buddy and there is nothing she would love more than being by your side! If you are approved to adopt through J&L, please contact Lisa at
lkh5@mchsi.com
if you are already approved to adopt. If you are not yet approved, visit our
adoption info page
to fill out an application.
Rescued dogs come with a range of needs - from behavioral to emotional to medical. When approved applicants adopt such dogs, they agree to continue the rehabilitation we have begun.
---
Black Dog Syndrome

Unfortunately, since the early 2000's, animal rescue workers have noticed an increasing phenomena called "Black Dog Syndrome," which is that black dogs tend to be adopted slower than dogs of other coloring. As a result, there are more black dogs in shelters, and they have a higher euthanasia rate – purely because of the color of their coat! In a recent survey done by the adoption website "Petfinder," Petfinder member shelters and rescue groups reported that most pets are listed for 12.5 weeks on Petfinder, whereas, less-adoptable pets (such as black, senior, and special needs pets) spend almost four times as long on Petfinder.

You may ask, "What does this have to do with a Golden Retriever rescue?" J&L often goes a step further than basic rescue, taking in dogs that might be thought of as "less adoptable" because of the physical conditions in which they are found. We have recently been taking in more and more of these special black dogs, many times considered to be golden mixes, into our rescue. We see an overwhelming interest in these "black goldens," getting requests about them the minute we publish their picture on our site! You never know… that "black golden" you see on our website may be a mix of wonderful breeds such as the Labrador or Aussie or Flat Coated Retriever! Either way, like all of our dogs, these pups are just looking for a family to look past their coloring and see their true "golden heartedness," to love them and make them their own! You'll be glad that you did.