Our Rescued Dogs

Overall, our Goldens and Golden-hearted dogs make wonderful pets and adjust well to their new families. Although it does happen, J&L rarely has "perfect" dogs in our rescue. We want our applicants to also know that rescued dogs come from a variety of backgrounds. Some dogs are older dogs, including well-behaved and cared for pets whose owners have become ill or died. Many rescued dogs will require continued behavioral work due to a lack of training, neglect, or abuse in the dog's previous setting. A patient and loving owner can make all the difference. From experience, we know that these dogs with "endearing imperfections" can move forward, provided their new family gives them necessary guidance and direction. Love is crucial, but love alone is not enough. Boundaries must be set and rules must be established. Strong human leadership is mandatory. The joys of seeing these Goldens become the devoted and contented pets they were meant to be is remarkable.

Going one step further, J&L often takes in dogs that might appear "less adoptable" because of the physical conditions in which they have been found. We lovingly nurse the dogs back to health and find them homes that provide that extra TLC these dogs need.

Our adoption process begins when a homeless Golden Retriever is brought into rescue. Each dog is first provided a medical assessment and any necessary treatment including spaying or neutering, heartworm treatment, and vaccinations. We begin evaluating each dog's personality and temperament from the moment they are welcomed into our rescue. We attempt to assess each dog's behavior with other dogs, children, adults, and other animals when available. We observe our dogs to determine their level of house training, crate training, leash skills, knowledge of commands, ability to ride in cars, activity level, and exercise needs. Then, we carefully select homes based on the needs of each individual Golden or Golden-hearted dog.

Owners of rescued dogs can share with you that often their "ideal" dog turned out to be the one that did not immediately catch their eye, but were receptive to the suggestions of J&L's placement coordinators. At J&L, our goal is to match the dog's needs with the best home among our approved applicants. We encourage our applicants to keep open minds in terms of their preferences.


Surrendering Your Dog to J&L
Surrendering a beloved family pet is a heartbreaking situation for anyone to find themselves in. At J&L Golden Retriever Rescue, we recognize that life changes and unexpected circumstances can happen to anyone, often leaving no alternative but to re-home the family pet.
Our goal is to assist dog owners in finding a loving home for their golden or golden mix, while remaining sensitive to how difficult a decision this solution for everyone involved.
If you have found yourself in need of help re-homing your Golden Retriever, please complete the
intake form

along with the
authorization to release vet records
. From that point, you will be contacted by a J&L intake coordinator who will be able to answer any questions that you may have and begin the intake process with you.
---
Helping Dogs Go Home - Become a Foster!
Can you provide a safe and comfortable place for a homeless dog to stay for a few days, or a few weeks? J&L takes in many dogs who need a temporary place to stay while waiting for their forever homes, or while recovering from heartworm treatment. Watching a sad and frightened dog transform into a happy, healthy dog
is a great experience. You will be helping a dog along the journey to a forever home, and you will also be saving another dog's life by freeing up space at a kennel for another homeless dog. Fostering is a heartwarming experience - you don
'
t have to adopt to know the joys of rescuing a homeless dog. And it
'
s a great way to experience having a dog without a long-term commitment.
​
Here are the faces of some J&L dogs who have stayed with our cherished fosters:
Should you wish to be considered as a foster parent for a homeless dog, and to learn more about fostering for J&L, please contact
Lisa
or submit a foster application. Thank you for considering becoming a foster parent to a rescue dog.
---
Shaving Your Dog's Coat - Should You or Shouldn't You...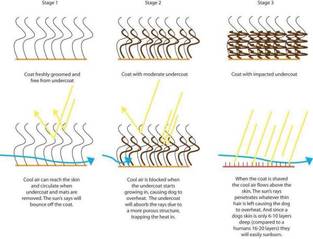 here are several different types of textures on dog's fur, but in a general breakdown there are two coat types; single coated and double coated. A single coat means that there is only a top (or over) coat that grows all over the body with no different undercoat. Breeds such as Shih Tzus, Poodles, Bichons, for example, are ones with a single coat. These breeds can be shaven generally with the only thing potentially occurring to the coat is over time it may become softer or it may have a slight colour change. Even with only a single coat you want to be careful on when you shave them, especially if you shave them right down, as this, although may appear to feel cooler, leaves the dog exposed to the possibility of sunburn. A dog with a coat shaved right down in the height of summer should not spend any length of time in direct sunlight. With the simple fact that there is only one coat the hair grows back normally and even after a shaving.

A double coat means there is both a top (or over) coat made of tougher guard hairs and a bottom or (under) coat that is thick and soft. Breeds such as Pomeranians, Shetland Sheepdogs, Siberian Huskies, Samoyeds, are examples of double coated dogs. With a double coated dog they need to be groomed by brushing throughout the year but most heavily done in the spring when a major shedding period occurs. As the weather warms up the thick undercoat starts to do a complete shed, it detaches from the body and is often described as molting. When you look at a dog in shed, they have "tufts" of fur that is soft and dense peaking through the longer guard hairs of the topcoat, this is called molting.

All this dense undercoat needs to be brushed out of the dog or Stage 3 from the top image above occurs. The coat becomes impacted and matted, preventing air from being able to move between the dog's topcoat and their skin. Once all this undercoat is removed the air can circulate between and through the hairs of the topcoat keeping the dog cool, while the topcoat keeps the skin protected from the sun. This topcoat can also protect the dog's skin from fly and mosquito bites.
---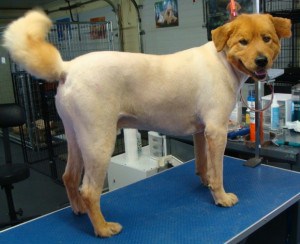 The question still remains then, why not shave them and just keep them out of the sun? For one, they may not actually be cool even if they are out of the sun, the topcoat can help to keep the heat off the skin itself and unlike people dogs do not sweat through their skin. Dogs sweat by panting and in all but northern breeds, through the pads of the feet. Shaving them actually removes some of their natural ability to stay cool. Another reason is that when the hair does begin to grow back it tends to do strange things. For some, it may mean having patches that don't grow at all, or that don't grow both types of coat layers (top and under), older dogs often have issues with proper regrowth and then for others (which happens most often) the undercoat grows in faster than the topcoat (since the topcoat isn't meant to shed extensively it grows extremely slowly) so now that protective topcoat is matted into the undercoat. Dogs like this generally appear as though they have thyroid issues. The hair looks fuzzy and varies in length all over the body. This doesn't mean the coat will forever stay this way. Most of the time with regular brushing and the next shed cycle the topcoat will get longer while the undercoat sheds away, eventually leaving the coat the way it once was with long topcoat guard hairs and a thick shorter undercoat. One other thing to note about those topcoat guard hairs – they actually prevent the dog from getting wet. Due to the coarseness of the guard hairs water rolls off of this topcoat keeping the undercoat dry, which in the winter is important to keeping the dog warm and dry.
All of this being said there may be times where it is necessary to shave a double coated dog. In surgical/medical situations the coat must be shaved or if the undercoat has become so matted it can not be combed out, shaving is the only solution. Once the coat begins to grow in, keeping them brushed and free of matting will prevent the need to shave them in the future.
Bottom line?
The ideal situation: Keep the hair brushed, remove all the undercoat and allow the dog to remain with their natural ability to keep themselves cool and protected from the sun and some bug bites in the summer and warm and dry in the winter.
Article written by:

Jennifer Oldfield

(albertnorthvetclinic.com)
---
Through the Eyes of a Dog

| | |
| --- | --- |
| An anonymous poet wrote: "If you can start the day without caffeine; if you can get going without pep pills; if you can always be cheerful, ignoring aches and pains; if you can resist complaining and boring people with your troubles; if you can eat the same food every day and be grateful for it; if you can understand when your loved ones are too busy to give you any time; if you can forgive a friend's lack of consideration; if you can overlook it when those you love take it out on you, when, through no fault of your own, something goes wrong; if you can take criticism and blame without resentment; if you can ignore a friend's limited education and never correct him; if you can resist treating a rich friend better than a poor friend; if you can face the world without lies and deceit; if you can conquer tension without medical help; if you can relax without liquor; if you can sleep without the aid of drugs; if you can honestly say that deep in your heart you have no prejudice against creed or color, religion or politics; then, my friend, you're almost as good as your dog." | |
---