Mellow


1/30/15: Sadly, we said goodbye today to sweet and gentle Mellow. Losing "Mel" was especially tragic because he should not have lost his life. If whoever owned this beautiful boy before he became a rescue dog had given him one Heartgard pill each month, he would not have gotten heart worms. Heartworms did so much damage to his heart, he could not recover from the heartworm treatment that was meant to save his life. Mel had a future. He had a wonderful family waiting for him, sending him gifts and food, and loving him from afar. When we knew for sure he would not survive for long, he had a loving home with Fosters Cheryl and Paul, who made every day special for him. They gave Mel more love in a few weeks than many dogs know in a lifetime. Mel can now chase the squirrels he loved to watch, running with abandon, free and happy, knowing he was very much loved and will never be forgotten.


If you are reading this, please always remember to get your dog Heartworm tested and give monthly Heartguard pills. Please spread the word to those who don't know or seem to care. And please remember Mel.
---
Post Heartworm Treatment Protocol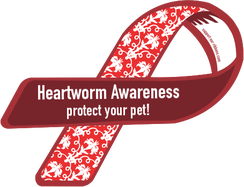 HEARTWORM TREATMENT IS A VERY SERIOUS MATTER

THE INSTRUCTIONS BELOW WILL HELP YOUR DOG RECOVER FROM HEARTWORM INFESTATION SAFELY AND EFFECTIVELY. YOUR UNDERSTANDING AND COMPLIANCE ARE EXTREMELY IMPORTANT FOR YOUR DOG'S SUCCESSFUL AND COMPLETE RECOVERY

When you adopt your dog from J&L, its heartworm treatment has typically been completed. Unless you have been otherwise advised, no further treatment is needed other than monthly heartworm preventative.
---
1) Exercising Your Dog Post-Heartworm Treatment
In the first month after heartworm treatment, leash walking is permitted. Building up your dog's stamina slowly is good for them, but their heart rate should not get too high. Start out with 10-15 minutes, the first week, increasing by 5 minutes per week. After the first month, gradually resume normal exercise and play.

2) Continuing Care
You should have already been told about the extreme necessity of keeping your dog on 12-month heartworm prevention. This is important for the health of your dog and to comply with our contract, which states that monthly heartworm preventative is required for at least the first year following a dog's adoption. This applies to all dogs, but is critically important for dogs originating in the South, and those who have undergone heartworm treatment.

3) Veterinary Care
It should be understood that it is very common for dogs who have undergone heartworm treatment to test positive for heartworms for up to 12 months following treatment. This is because of the microfilaria which may still be in their bloodstream. Thus, a heartworm test in the first twelve months may quite well be a false-positive. It is important to note that a treated dog should not be given anesthesia during the first six months following heartworm treatment. Also, there may be a temporary swelling or lump at the treatment site, on a dog's lower back near the hip, which is not a cause for concern. We urge that veterinarians in the North contact the treating veterinarian in the South with any questions, especially with regard to a positive heartworm test within the first year after treatment, as it is ill advised to treat a dog twice.

4) Things to watch for after treatment
Things to look for are coughing, lack of appetite, listlessness, troubled or labored breathing, vomiting, diarrhea, lethargy, fever, pale gums, difficulty walking, and blooding from the nose. If you see any of these symptoms please contact your nearest full service veterinary clinic, or a veterinary emergency clinic.

DO NOT HESITATE TO CONTACT LISA WITH QUESTIONS AND PLEASE DO NOT HAVE ANY PROCEDURES DONE WITHOUT BEING IN TOUCH WITH AN INFORMED VOLUNTEER.

BE SURE TO READ THE INFORMATION BELOW TO UNDERSTAND HEARTWORMS AND HOW THEY AFFECT THE HEALTH OF YOUR DOG
---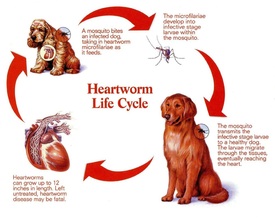 HEARTWORM DISEASE
Heartworm disease in dogs is caused by the bite of an infected mosquito. Heartworms are actually nematode worms which are called
Dirofilaria immitis
. Adult heartworms live inside of the heart of an infected dog.
The Life Cycle of the Heartworm - How Dogs Become Infected
Mosquitoes bite in order to feed on the blood of their victim. When a mosquito feeds on the blood of a dog infected with heartworms, that mosquito then becomes infected with heartworms also. When the mosquito then feeds on another dog, the mosquito can pass heartworms on to the dog which he is feeding on.
Mosquitoes are infected with microfilaria, a larval form of heartworm, when feeding on an infected dog. As time progresses, the heartworm microfilaria develops into an infectious stage. When the infected mosquito feeds on another uninfected dog at this stage, the microfilaria can then be passed on to that dog. Once inside the dog, the heartworm microfilaria continue to develop and mature and eventually reach the heart, where the heartworm finishes its maturation cycle.
The length of time necessary for the microfilaria to develop into an adult heartworm is normally four to six months. During that four to six month time period, standard heartworm blood tests will usually remain negative.
Classes of Heartworm Disease in Dogs
Before making the decision to treat a heartworm infection, the severity of the disease must be evaluated. Heartworm disease is broken into three classes:
Class one - asymptomatic to mild heartworm disease symptoms
Class two - moderate heartworm disease symptoms
Class three - severe heartworm disease symptoms
Classes of heartworm disease are determined based on clinical signs and results from basic blood testing and chest radiographs.
Treatment Options for Heartworm Disease in Dogs
Once the decision to treat has been made, a treatment protocol must be determined. The only medication currently labeled to treat heartworm disease in dogs is Immiticide®. Immiticide® is an arsenic compound which must be injected into the lumbar muscle of the infected dog.
Immiticide® is an arsenic compound and because it is injected into the body of the infected dog, the potential for toxicity exists.
One of the major complicating factors with treating heartworm disease in dogs is that as the adult heartworms in the heart begin to die off, they can cause emboli to the lungs, leading to damage within the lung tissue. This complication can be quite serious and even fatal. Severely restricted exercise is the primary technique used to combat this complication and usually means cage restriction for many weeks for the infected dog during the course of the treatment for heartworm disease.
THANK YOU FOR HELPING US TO SAVE THE LIVES OF THESE DESERVING DOGS.
---