Cherry -
Happily adopted!
Cherry is such a sweetie - so loving and everything we could have wanted in a dog! ​
11/2017

---

Frieda -
Happily adopted!

11/2017

---

Arabella -
Happily adopted!

10/2017

---

Jack -
Happily adopted!

10/2017

---

Lady -
Happily adopted!

8/2017

---

Sage -
Happily adopted!

7/2017

---

Sheba -
Happily adopted!

7/2017

---

Chip (fka English) -
Happily adopted!

​​Here's Chip at the bay! He's adjusting great, and sticks to me like glue.

6/2017

---

Avery -
Happily adopted!

​​She is adjusting beautifully into our home. After the first 24 hours, she has relaxed, is far less needy in terms of constant human contact and slept through the night on her bed on the floor in our room. She is very loving and gentle.
~Julie & Dan
2/2017

---

Tillie -
Happily adopted!

​​12/2016

---

Monte -
Happily adopted!

​​12/2016

---

Suzie -
Happily adopted!

​​12/2016

---

Raine -
Happily adopted!

​​12/2016

---

Hattie -
Happily adopted!

​​11/2016

---

Magnolia -
Happily adopted!

​​11/2016

---

Matthew -
Happily adopted!

​​10/2016

---

Roger -
Happily adopted!

​​10/2016

---

Delilah -
Happily adopted!

​​10/2016

---

Samson -
Happily adopted!

House trained, leash trained, and a happy, happy boy! 10/2016

---

Grace -
Happily adopted!

​​8/2016

---

Lily Ombre -
Happily adopted!

​Yes, we would like to keep her! We've puppy proofed a little more and are spending more training time with her. Also, took her swimming this week, which she loved. Wishing you many more happy placements.
8/2016

---

Hope -
Happily adopted!

​ 7/2016

---

Twister -
Happily adopted!

He's doing great. He slept in his crate all night. He loved running around the backyard. He is full of puppy energy but that's what makes him fun. We love him already. It's going to be a good match. Thank you for helping us get together. 5/2016


---

Cooper -
Happily adopted!

Cooper is doing great! He adjusted immediately and made himself at home day one. He is a very sweet, calm dog who loves people, riding on the boat and being walked. He is up to normal exercise now and the vet says he looks great. Here he is relaxing on our deck! Thank you for Cooper! 7/2015


---

Atlas - Happily adopted!


He is fitting right in already. He can not get enough pets. He gets along with Penny very well and is ready to play with her but we are keeping them calm since he needs to ease into it again.
3/2015


---

Winni-Pooh - adopted!


I have FLUNKED FOSTER CARE
Introducing Winnie- Pooh Brown. I am adopting. A good pal for BAMA

1/2015

---

Willow -
Happily adopted!
​​
10/2017

---

Darla -
Happily adopted!
​​
10/2017

---

Basil -
Happily adopted!
​​
7/2017

---

Tes -
Happily adopted!
​​
7/2017

---

Doc & Dena -
Happily adopted!
​​
6/2017

---

Mandi -
Happily Adopted!

12/2016



---

Ebony -
Happily Adopted!

12/2016



---

Max and Molly -
Happily Adopted!

12/2016



---

Major -
Happily Adopted!

11/2016



---

Justice -
Happily Adopted!

11/2016



---

John -
Happily Adopted!

10/2016



---

Mark -
Happily Adopted!

10/2016



---

Patrick -
Happily Adopted!

10/2016



---

Luke -
Happily Adopted!

10/2016



---

Lexus -
Happily Adopted!

We would like to thank all the volunteers who made our adoption possible. Sam (Lexus) is a big hearted, loving boy and is settling wonderfully into his new life. We couldn't be happier. 6/2016



---

Trooper -
Happily Adopted!




---

Neville - Happily Adopted


He was a little shy at first but has since warmed up to all of us. He is smart as can be and is on a very fast learning curve. We have enjoyed getting to know what to expect from a "Toller" and just love seeing him come to life around the house and neighborhood. He is curious, smart, sweet and as easy going as they come. All the kid's friends have come by the house to meet him and he just cuddles
up to all of them. He has made friends up and down the block very quickly. The neighbors have nicknamed him the "fun size" golden retriever. Neville has some big shoes to fill from our last dearly loved girl Mufffin but I think I can say she may have had her paws in this little fella coming to us. I would again like to say thank you, to you and the vet clinics that cared for him so that he could find his way to our home. ~Skipper family


Duke - Happily Adopted!


Holmes- adopted!




01/2014


---

Owen - adopted!

Owen was happily adopted and feeling loved!


12/2014


---

Jack - adopted!

Jack was happily adopted and enjoying life with his boy!


12/2014


---
---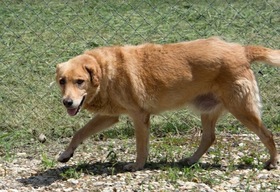 Rosa's Rescue


On November 20th, we lost our
forever foster
girl, Rosa. She has crossed The Bridge and is running free and without pain. Foster parents Cheryl and Paul, along with resident dog Mae, gave Rosa a wonderful three months filled with love. During that time Rosa was a Sunshine ambassador, helping other foster dogs who stayed with Cheryl. Rosa was truly home and, although her time there was short, she was happy and knew what it felt like to be a much-loved dog.
Sunshine is so grateful to Cheryl and Paul, and to our foster families who give so much of themselves to help homeless dogs like Rosa. To those of you in Sunshine's family who sent in donations toward Rosa's care—you all played a part in Rosa's happy final months, and we thank you. We will never forget you, Rosa!
*****************************************************
Sometimes a dog gets to us just in time to break our hearts. Rosa was a 7 year-old stray in a hot Louisiana shelter that had no air conditioning. We took her into Sunshine as soon as we had space in our rescue and straight she went to the vet's office. We had been told she had a scratch on her ear - but it was not a scratch, it was a cancerous growth. We had pre-op X-rays done to prepare for her surgery only to be told that cancer had already spread to her lungs. We were then told that Rosa has about three months left in this world before she crosses the Bridge. We hope it will be longer.
Rosa is very special. If we could have found her a forever adoptive home, her adopter would be getting a beautiful soul of a dog. She is gentle, affectionate and easy-going. She is pretty with doe-like brown eyes that look straight into you with trust. Rosa loves other dogs and people and she would have brought much happiness as a terrific family pet.
Although that can never be, Rosa has still found happiness. She is staying for her remaining time with a kind and loving foster. Rosa will have her foster mom's company most of the day, along with kitty friends and two resident dogs. She has toys and a fenced yard and car rides. She has lots of treats and great dinners! Rosa doesn't know her time is short and she is enjoying every day, being spoiled and showered with attention.
We are posting Rosa's story so that you will know about her, along with the other dogs in Sunshine who will find their adoptive homes. Thank you for reading this, and for caring about rescue dogs in need.
---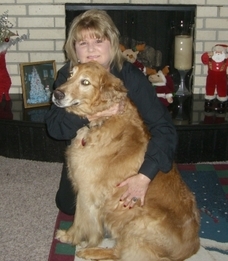 Chance, therapy dog

Adopted in 2002, God had called Chance to heaven on December 13, 2014. It was time for him to go take care of the residents from the nursing home facilities that he visited over ten years. Are they going to be glad to see him. Chance was a gift from God making everyone smile that he was with. He loved working with the special children with all the hugging and petting he received from them.

Chance fulfilled my life for the past 12 years. He helped me get though Katrina and the stroke I had 4 years ago.

Rest in peace my sweet and beloved Chance.
---